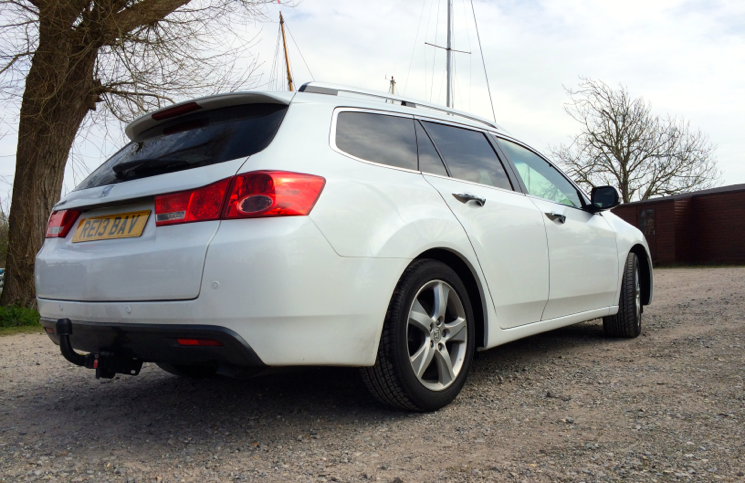 After a nightmarish day at the office where between staring at a computer screen for hours and making endless phone calls, you manage to spill coffee all over your boss' new suit. The thought of being at home in bed is a
welcoming one. However, you have one last obstacle to overcome and it might just be the straw that breaks the camels back. THE COMMUTE HOME! Potentially hours stuck in traffic with a gauze of noisy horns and expletives in the air. Can you make it home before your blood starts boiling? Can the Honda Accord do the job?
The Honda Accord Tourer is made up of clean lines that creates a conservative overall design. Whilst not the flashiest estate in the car park, some rivals have really raised the bar, its chromed trim and polite roof rails promote a sense of maturity and class. This car clearly is not aimed at a younger generation and so its target audience will likely appreciate its more sophisticated appearance. Let us call it "the power of the understatement." This being the Tourer means that it isn't a small car, but then its proportions should allow you to reap the benefits inside. Shouldn't it?
Well, yes and no. There is no denying that the cabin offers a nice amount of space for passengers. Rear head and leg room is generous and large windows allow good amounts of natural light to fill the interior. However, the Accord Tourer has a flaw when it comes to the boot. In this top specification EX model the electric tailgate opens to reveal a big flat loading area. Perfect! The issue I speak of arrises when you fold the rear seats flat and want to load a large object. Two protruding suspension turret housings turn the loading area from a big rectangle into an hourglass shape. This results in not being able to fit wide objects down the length of the car. I know, not a deal breaker, but it could prove to be a slight annoyance considering you would buy this car for its practicality. Moving back into the passenger area, occupants are treated to plush leather heated seats that are fantastically comfortable and typical Honda build quality is seen throughout. Bluetooth and dual zone climate control is also on offer as is a sunroof for those times when you want more of said climate to enter the car. Yet, I have another gripe with the interior… It is horrifically outdated when compared with competitors. A maze of grey buttons and dials illustrated by a digital display similar to that found on an old video tape player? The interface for satellite navigation is like something from Windows '98 and the clarity of the display isn't the greatest. Come on Honda! We know the Accord is no spring chicken, but the ergonomics of its rivals are far better.
Thankfully the Accord Tourer is redeemed by the way it drives. Powered by a 2.2 litre diesel i-DTEC engine, it is a strong performer. Its 148BHP is available with a delectable 350Nm of torque meaning that it is more than
capable of taking advantage of gaps at junctions and bold overtaking manoeuvres. Power is sent via an automatic gearbox which is absolutely seamless with its cog swapping. Seriously, it is so smooth you could play a game of Jenga and not have your tower of wooden blocks topple over. This Accord also has paddle shifters on the steering wheel for those moments on the school run when you feel like Jenson Button. The ride, though a bit on the firm side, compliments the quick and direct steering resulting in meaningful changes of direction without vast amounts of lateral movement from the body. On the motorway the Honda Accord Tourer makes itself at home. Allowing the automatic gearbox to do its job and setting the cruise control, its quiet engine does all of the work whilst you relax. It is a genuinely soothing drive and one that just about anyone would welcome after a hard day at work. Visibility is adequate in all directions, but our test car was also fitted with a very useful reversing camera which makes parking the big car much easier. The only disappointing factor in the way this car drives is its claimed 44MPG combined, far behind the 72MPG claimed by Mazda's similarly powerful 2.2 diesel in the 6.
The Honda Accord Tourer's problem isn't that it is a bad car, far from it. It is a wonderfully tranquil driving machine that will reliably take you home in comfort come rain or shine. It's issue is that it is old and whilst you can buy one brand new today, the nameplate hasn't seen massive changes since 2008. At the £31,990 asking price even of our highly equipped test car, that is a lot to ask for when the competition in this class is of such a high standard. That said, the price might be justifiable to those wanting the peace of mind Honda offer in their build quality.