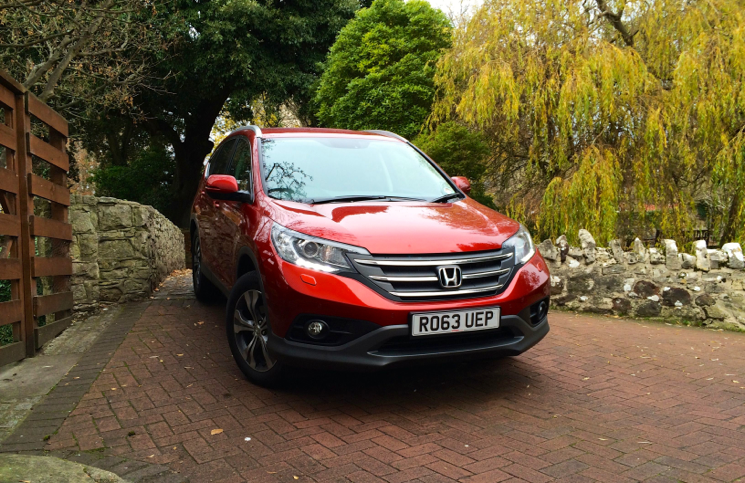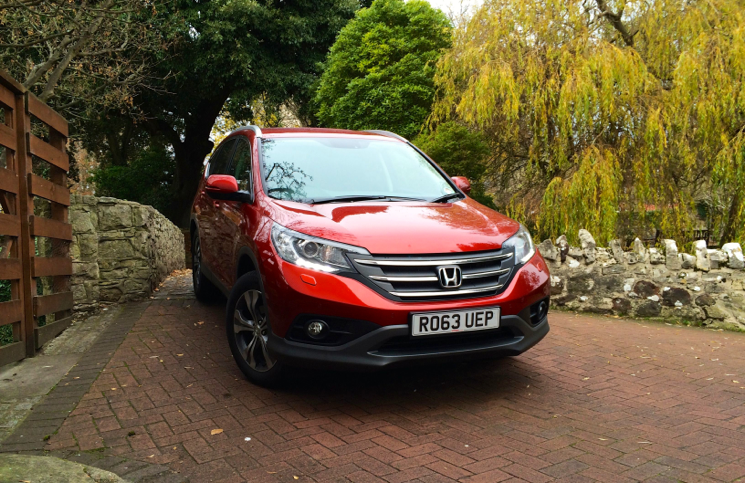 In terms of the environment, cars do tend to get a bad press. With the growing number of vehicles in the world and the polar ice cubes reportedly shrinking, the motor car does look a tad guilty.  Though the correlation between the two is up for debate, it would be wise if we did our bit to help preserve Fred the polar bears living room. Within Europe strict CO2 emissions laws are coming into force with manufacturers having to look at ways to reduce their output of greenhouse gasses. The current
trend is one of downsizing engines but finding methods to maintain performance. Honda did a great job with the new 1.6 litre diesel engine they put in the Civic, but the question is can the same unit impress in the much larger CR-V? Previously the only diesel option for the Japanese SUV was a 2.2 litre, a good engine but in a world where we are all trying to save the environment this 1.6 litre i-DTEC has now found a new home.
Our test car is in SR specification and is front wheel drive as opposed to other CR-V models where a 4X4 option is available. Visually the car is identical to the rest of the lineup portraying a modern design architecture that has a functional nature to it. In Passion Red with these smart looking 18 inch alloy wheels the CR-V looks very grown up and premium. The roof rails and aluminium trim detail the cars silhouette nicely supporting the good proportions this model has.
Now, over the past year we have driven every CR-V engine and trim level and whilst the top spec EX car has a very comfortable cabin sporting every toy under the sun, I think that this SR option is the sweet spot. The half leather half alcantara seats are extremely comfortable and give the interior a plush feel. This car also receives a DAB radio with premium audio system, UBS and MP3
compatibility, privacy glass and heated seats for those cold winter mornings. Whilst I did miss the panoramic glass roof of the EX, the CR-V's windows are plenty big enough to let generous amounts of natural light in. Passengers should find the seats supportive and for those in the rear head and leg room is not at a premium. Its console has a nice logical layout to it that makes its operation quick and easy. The boot is vast and looks as if it could swallow the Isle of White! Lining the floor of this area is a removable flexible plastic tray that can catch dog hair, mud, sand as well as any other unwanted mess. This CR-Vs vast storage can be extended with one pull of a leaver that flattens the rear bench revealing a loading area that might just carry Belgium give or take a few boxes of chocolate.
Starting the CR-V on a cold day it does sound a bit grumbly, as do most diesels, but once up to temperature and underway the 1.6 is quiet and refined. Whilst there is no getting away from the fact that the CR-V is a big car, driving it in an urban environment is a piece of cake. Thanks to large mirrors and big windows visibility is always good. Parking sensors and a reversing camera means you can park this car in some rather challenging spots without too much of a problem. Whilst the steering doesn't provide bags of feedback, it is well weighted and in tandem with a good 6 speed
manual gearbox this car never feels like a chore to drive. Through faster bends, as you would expect from a car of this nature, there is a noticeable amount of body roll. The new 1.6 litre i-DTEC engine offers plenty of pulling power with torque accessible from low revs whilst it happily copes with the extra weight of this CR-V over the Civic. Proceeding to join a motorway, this engine also proves to be a good all rounder with the ability to not only cruise for long distances, but also get a wiggle on when an overtaking manoeuvre is necessary. The pedal box, much like the steering could do with a bit more feel but the throttle is responsive and the brakes perfectly employable for the job of stopping the car. In terms of suspension, the CR-V is good at soaking up the often aggressive bumps and potholes found on UK roads. Fuel economy sat at an average of 48MPG after the car had been put through its paces in an array of situations.
All-in-all this new engine for the Honda CR-V builds on top of an already competent package. Great levels of comfort and practicality mean that the CR-V is an ideal family companion. Don't forget that this is a Honda and very unlikely to let you down. At just over £27,000 our test car is a bit on the expensive side, yet in terms of equipment and trim along with the 1.6 litre diesel engine, it is the pick of the bunch.