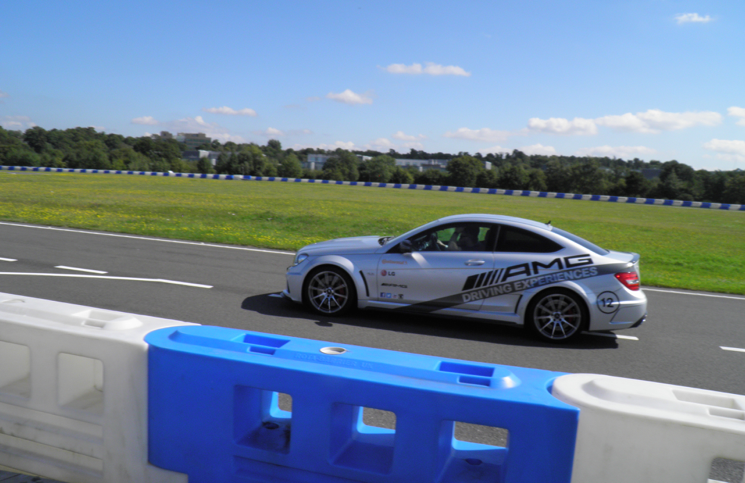 Overkill is never very subtle, but it can be highly entertaining. Think of cutting a Birthday cake with a chainsaw or using a thermo-nuclear weapon to bake a potato. Within Mercedes-Benz there is AMG. This division is responsible for all of the
Germans performance models and taking the fight to BMW's own M division. These cars are mighty and excellent specimens of performance, however, the three pointed star has a means of well and truly turning things up to 11. You see, within the team at AMG there are a handful of engineers who are, let us just say mad, and they are the ones behind cars labeled Black Series. A Black Series is what you get if you remove the rulebook, drown out the health and safety executives with heavy metal rock, and tell everyone to go a bit nuts. This is the Mercedes-Benz C63 AMG Coupe Black Series, a car that doesn't really care what you think and would happily eat your cat without remorse.
Its swollen testosterone injected body creates a devilishly handsome outline. Muscular body lines,  heavily flared wheel arches and intakes large enough to ingest passersby gives this car a sense of brutish aggression. It may well be based upon a Mercedes C-Class, but Dr Jekyll is gone and you are staring and Mr Hyde! Numerous grills for when it breaths in, overt bonnet nostrils to cool the 6.2 litre V8 heart, and quad tailpipes for when it breaths out. If the Black Series is menacing stationary, imagine it in motion…
The interior is pretty much what you would come to expect from a C-Class in that it is neat, ergonomic and inoffensive. Look closer, however, and this cars temperament bleeds through into the cabin. Red stitching contrasts the deep blacks of the leathers and Alcantara. The composite fabric also finds its way onto the thick rimmed steering wheel. Two large bolstered seats dominate the cabin and where there was one rear seat is now a void to save weight. It is in fact more practical, from a luggage viewpoint, than the standard C63 AMG as the boot remains just as big yet without the rear bench more space is available. The driving position feels natural and visibility is good as long as you don't option the large rear wing.
Turn the key a brace yourself as the Mercedes-Benz C63 AMG Coupe Black Series awakens with a bellow deep enough to penetrate your chest cavity. Tweak the throttle and it and the car will
let out a little snarl followed by a few pops and bangs. Just pottering along at low speeds you can feel that the whole car is tensed and ready for action. It is powered by a 6.2 litre naturally aspirated V8 engine that produces 517BHP and a biblical 457lb ft of torque! 0-62MPH is completed in 4.2 seconds and the Black will go onto an electronically limited top speed of 155MPH. If you were ever in doubt that this was a serious piece of kit, you have now been informed. Opening the taps lets the animal out of its cage. The high levels of torque are immediately noticeable as the car fires you down the road. Its surge of acceleration is relentless as your internal organs are immediately rearranged. Hit those brakes hard and there is a good amount of feel through the pedal and even with our cars standard discs, not the optional carbon ceramics, there was plenty of stopping power. We would recommend the carbon discs if the car was to see prolonged track use as inevitable brake fade would become a non-issue. Turning into a corner at speed there is no way the C63 can be mistaken for a small car. You can feel the vast amount of weight it carries but its suspension and chassis manage the transfers well. The steering offers plenty of feedback to the driver and although a bit heavy, in combination with the quick steering rack it feels so direct. There is a lot of grip on offer from its wide tyres and the only way to really make it break traction is with its vast amount of power. All of this whilst the hills are alive with the sound of horsepower. This cars soundtrack is all consuming and reinforces the slight muscle car tone it possesses. There is one final thing that Mercedes-Benz C63 AMG Coupe Black Series does very well and that is be a Mercedes-Benz. After all of the lunacy has subsided and it is time to go home, selecting its most comfortable setting reveals a smooth and far less harsh ride than you would expect.
An amazing machine that despite its overtly aggressive appearance and impressive performance, is still a car with a wide breadth of abilities. It isn't perfect as its single clutch 7 speed gearbox could be more immediate but we can forgive the Black Series its shortcomings because, let us face it, it would probably beat us up and steal our lunch money if we didn't.