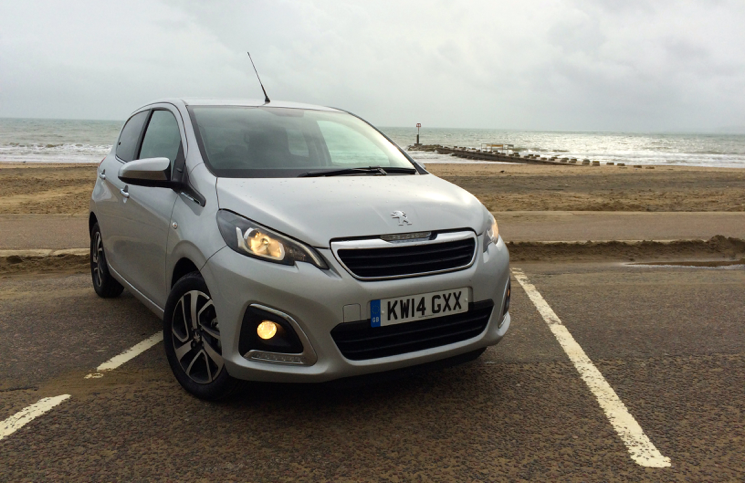 Sibling rivalries can be very difficult indeed. The highly competitive game of oneupmanship between brothers and sisters is something parents have to deal with as their children grow up. Peugeot, Citroen and Toyota each have a variation of a shared city car, and just like their previous generations, they fight for the same attention. The Toyota Aygo, Citroen C1 and Peugeot 108 are all technically the same car, however, each has its own flavour. Aygo attempts to be cheeky with a slogan like "go fun yourself." C1 arguably is the most visually unique of the bunch, whilst the 108 appears to be the most grown up. What does the latter French connection have to offer? The Peugeot 108 Allure 1.2 arrived to facilitate an answer.
Looks are entirely subjective, but to my eyes at least, the Peugeot 108 is the best looking of the bunch. Some might say it is too subtle but I quite like the modest chrome detailing around the grill and neat adoption of the Peugeot family face. This
Peugeot 108 1.2 Allure was the five door model adding some practicality to this little car. Its Zircon Grey paint complimented the 15 inch alloy wheels which come as standard when Allure trim is selected. Just like the 107 before it, a darkened glass boot lid sits between the rear lights. The 108 is a neat design which will appeal to those who maybe want a more sober looking car. That is unless you go through the customisation options, in which case you can make it as outgoing and girly as you please. For me as a bloke, the plain and simple silver suits me fine. Although I would choose to have the optional fabric roof for when the summer returns.
For such a small car it is far from claustrophobic on the inside. Two substantial seats hold you in place up front, our test car had these optioned in  a questionable tartan design, but each to
their own. The steering wheel with its button mounted media controls sits just ahead of a large speedometer with a vertical rev counter, a nice stylistic touch. A large touchscreen infotainment display give you access to Bluetooth and DAB radio, a smartphone app enables further interaction between phone and car. In the back are two seats which can occupy adults, not just children, thanks to good levels of head and leg room. This car without the electric fabric top does gain some added head space over a model fitted with it. The aforementioned seats can be folded flat but the boot individually is capable of carrying a few bags and not much more, however, this is similar to competitors in the segment.
This Peugeot 108 Allure 1.2 possesses keyless entry and so starting the engine involves simply pressing a button. The 108 does have a considerable advantage over the Aygo in that it has two
engine options. Firstly the 1.0 litre engine which the Aygo also has, but then there is this 1.2 81BHP unit which it doesn't. The latter means that motorways won't be quite so much hard work whereas the formers 67BHP means the city is where that engine belongs. At idle there is a notable vibration from the 108, however, these dies down one the three cylinder engine gets underway. This being a little city car it isn't going to be the fastest thing on four wheels, but that doesn't mean it can't be enjoyable to drive. Work its five speed gearbox and allow the thrum of its engine to go free, it can indeed put a smile on your face. It is quite keen to change direction making it ideal for life in a busy city, but that can also play to your advantage on twisty roads. Its skinny little tyres do mean grip is limited when you push the car, but in normal driving manor its behaviour is more than polite. The steering is light which is again good for buzzing about town and a rear reversing camera makes parking easy even in the smallest of spaces. On a motorway there is road and wind noise which might become grating on longer journeys, however, if you are commuting long distances in a 108 I'd suggest that you might have purchased the wrong type of car. That said, it can hold its own on these fast stretches of road with it being more than capable of making an overtake. In mixed condition we average 52MPG from this Peugeot 108 Allure 1.2.
The Peugeot 108 is a likeable little car and is visually different enough from its competitors to give it its own identity. Choosing between the C1 and 108 comes down to personal preference but both are accomplished successors to their popular forefathers. This car in particular came to £11,395 in its Allure trim with metallic paint. With the smaller 1.0 engine you can have a new 108 from £8,245.