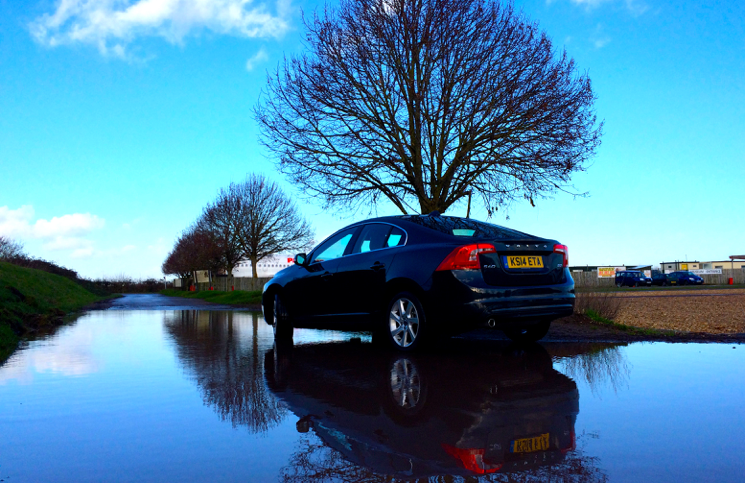 Take a look around you the next time you are on a motorway and notice just how many German cars there are on the road. I speak specifically of BMW, Audi and Mercedes-Benz. Whilst those three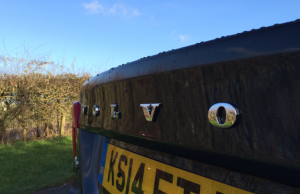 luxury brands produce some mighty fine machines, if you are in one of them you can't help but feel a bit lost in the crowd at times. Volvo provide alternatives with its range of premium cars and for clocking up the miles on the motorway, the S60 makes a strong case for itself. We tested the Volvo S60 D2 SE Nav to see just what the Swedish brand brings to the table.
The Volvo S60 is an executive looking car with its sleek saloon profile. From its neatly drawn chrome grill to the sloping roofline, the character it portrays is civilised and very grownup. Polite bonnet creases and deep headlights add to an aesthetic that reinforces "the power of the understatement." Our test cars Savile Grey paint nicely contrasted further chrome trim and sensibly sized alloy wheels. Putting this car in your driveway shows you are doing just as well as anyone driving its German counterparts.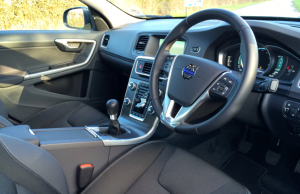 Within its well tempered body is an interior that continues along the theme of maturity and quality. Everything you touch feels well engineered and robust. The "floating" centre console is still a unique design touch, however, its horde of buttons do somewhat date the interior. An infotainment screen provides access to DAB radio, Bluetooth, phone functions and satellite navigation. The system is intuitive but not quite as ergonomic as some rivals. Our cars black fabric seats were very supportive, as is the case with many Volvo, and provide a comfortable place to sit for many motorway hours. Dual zone climate control and heated seats further bolstered comfort. Whilst the front row claims little criticism, the back seats have a slightly harder time. The sloping roofline does mean that if you are taller than average hight you might be struggling for head room, although leg room is very good for the two outermost passengers. If you are sat in the middle you will need to straddle a large transmission tunnel. The sculpted rear seats themselves are good in consolation. Its boot is of a reasonable size, but opt for the spare wheel and you will dramatically cut into that space.
This specific Volvo S60 is powered by a 113BHP diesel engine which claims an official 72.4MPG, company car buyers take note. Something else that this car and engine combination can achieve is a
huge range. Driven carefully you can go up to 972 miles on one tank meaning that trips to the pumps will be few and far between. In motion the Volvo S60 D2 SE Nav is always perfectly composed and never deposits too much noise into the cabin. On athletic roads the car is confidence inspiring with high levels of grip and little in the way of body roll. Whilst 113BHP isn't a vast amount of power, thanks to the torque of this engine performance isn't asthmatic providing you are willing to work the 6 speed manual gearbox. This Volvo's ride is a little bit on the firm side and over particularly broken stretches of tarmac it does feel fidgety. Another slight grip with the S60 is its numb steering. Whilst you can put the car exactly where you want it thanks to the controls precision, there is never very much in the way of driver feedback coming the other way. As a result this is not the most entertaining car in its class. That said, owners of the S60 are likely to spend most of their time on the motorway and here is where this model excels. For a car to settle down and let the miles tick by there are very few in this class that can touch it. Set the adaptive cruise control and the car is perfectly capable of keeping you a safe distance from others ahead whilst you enjoy the comfort of the cabin. Some may want more performance, in which case the D4 engine is our recommendation. Our car equipped with blindspot detection, pedestrian detection and collision warning with auto brake means that a crowded city doesn't phase the S60.
This Volvo S60 D2 SE Nav is available from £20,620 but the options list can be a killer. Just like its German rivals it is very easy to get carried away and so our test car actually came to £33,995. If you are after the ultimate in driver involvement from your premium saloon then the S60 might not be the right choice. Prioritise motorway comfort, impressive emissions of just 103g/km and safety, then this car ticks the boxes.