Every day this week, we'll be running the rule over each of the teams and drivers gunning for WRC's ultimate prize in 2017. Today it's the turn of championship regulars Hyundai, embarking on their fourth straight season in the World Rally Championship.
Hyundai World Rally Team:
After an eleven-year absence, Hyundai finally made their return to the WRC fold in 2014. Under the guidance of ex-Peugeot technical director Michel Nandan, the Korean manufacturer's rookie year proved to be a rather rocky ride with a series of mechanical gremlins blighting the i20 WRC in the early part of the season.
Neither of Hyundai's duo of drivers Thierry Neuville and Dani Sordo was able to make waves in the 2015 championship, with the vast majority of the podiums locked-out by the ever-dominant VW pilots. However, the team was able to push Citroën right to wire in the hunt for second in the manufacturers' classification, helped in no small part by the unexpected rise to prominence of its previously unheralded number three, Hayden Paddon.
Whilst there was once again no getting close to Volkswagen last year, the Hyundai team made significant strides of its own.
Over the course of a thrillingly competitive first half of the season which saw six different winners from the opening seven rounds, Hyundai picked up two rally victories courtesy of Neuville in Italy and Paddon's maiden senior success in Argentina. Allied to a series of podium finishes later in the year, this early season success propelled Michel Nandan's squad to a best ever second place finish in the manufacturers' championship. Whats more, all three i20 WRC pilots ended the season in the top five of the drivers' standings, with Neuville splitting the mighty Polos to equal a career-best runner-up spot.
Despite some initial uncertainty over Neuville's future, the Belgian did eventually agree a contract extension for 2017. This means Hyundai World Rally Team boast the only unchanged line-up in the service park this season. In a sport where success depends so highly on stability and consistency 2017 could well be the springboard this relatively young team requires to propel them to the top of the WRC tree.
Team Principle: Michel Nandan
Drivers:
Thierry Neuville
Age: 28
Nationality: Belgian
Co-driver: Nicolas Gilsoul
World Championships: 0
Career WRC Rally wins: 2
2016 finish: 2nd  
Excelling from a young age in his homeland, Thierry Neuville was always destined for big things in a rally car.  In 2011, he made his first mark on the world stage, scoring two wins and 5th overall in the Intercontinental Rally challenge. Sensing his undoubted talent, the Citroën factory team snapped up the youngster and added him to the ranks of their junior squad for the 2012 WRC season. Their faith was rewarded, as Neuville duly delivered six top ten finishes and a highly respectable seventh overall in the championship.
His next move was to M-Sport and this would prove to be the real watershed moment in the young man's career as he ended the season as championship runner-up, bested only by Volkswagen's all-conquering Sébastien Ogier. A big money move inevitably followed and in 2014 he signed a multi-year deal to spearhead Hyundai's WRC comeback. Neuville's first rally win seemed long overdue and he finally broke his duck in Germany, leading a triumphant Hyundai one-two and in the process becoming the only driver to deny Volkswagen victory that year. Reprising his role as team leader in 2015, Neuville's year started promisingly. Unfortunately, the following 11 rounds yielded just one podium and Neuville was dropped from the senior squad altogether in favour of Hayden Paddon for the final round in Great Britain.
The Belgian star appeared to have reached a crossroads in his career at the beginning of last season. Would he ever fulfil his early promise and mount a challenge for rally victories once again? The answer was an emphatic yes, as Neuville registered a brilliant third place in his first outing in 2016 before finally scoring his second career victory at Rally Italia Sardegna. A magnificent end to the season followed with Neuville scoring five podium finishes in as many rounds, clearly marking himself out as the challenger in chief to all-powerful Volkswagens. Second in the driver's championship equalled his 2013 achievement. Make no mistake; with Volkswagen out of the picture, the 28-year old has very real title ambitions for 2017.
Dani Sordo
Age: 33
Nationality: Spanish
Co-driver: Marc Marti
World Championships: 0
Career WRC Rally Wins: 1
2016 finish: 5th
It is perhaps inevitable that any Spaniard looking to make a name for himself in rallying will automatically be compared to the country's most successful WRC driver, the legendary Carlos Sainz. It does help, however, if that legend is your mentor and the man sat beside you in the passenger's seat is his former co-driver. That was the leg-up that a young, talented but raw Dani Sordo needed to propel him to the big time.
A JWRC winner in 2005, Sordo took his first steps in to WRC proper with Citroën in 2007. In the exalted company of Sébastien Loeb, the man from Torrelavega proved to be a more than capable foil, twice finishing third in the championship in 2008 and 2009. Those two years remain the high point of his career, as a combination of a loss of form and the swift rise of Sébastien Ogier saw Sordo first demoted to the junior team and then shown the door in 2010. A sojourn with the newly formed Mini WRC team in 2011-12 briefly promised to turn his fortunes around but the venture ended badly for all concerned when the team failed to find the budget to return in 2013, leaving Sordo high and dry once more.
Ironically, it was Citroën who offered him a lifeline in 2013, partnering Mikko Hirvonen for the majority of the season. In general, Sordo failed to impose himself, albeit in a struggling team, but the one shining highlight came in Germany where the asphalt specialist  claimed a first ever WRC victory; at the 106th time of asking. Despite this, the reunion with Citroën didn't work out and Sordo upped sticks yet again in 2014 to join Hyundai.
After a career littered with new beginnings and false dawns, the nomad of WRC looks to have finally found his home in an i20. Though winless, Sordo made a good fist of his 2015 campaign, claimed top six finishes on more than half the rounds, and a season's best of third in Spain on his way to 8th overall.
 Last year was perhaps the most consistent of Sordo's career to date. Suffering fewer retirements than anyone save world champion Ogier, the Spaniard only once finished outside the top six on the rallies he did complete. Second place on the asphalt in Germany and then again on his home event in Catalonia were the highlights of a satisfying season for the experienced Hyundai star.
Often regarded as solid if unspectacular, Sordo need only add a couple more podiums to his consistently respectable points haul to make himself a real force to be reckoned with in 2017.
Hayden Paddon
Age: 29
Nationality: New Zealander
Co-driver: John Kennard
World Championships: 0
Career WRC Rally wins: 1
2015 finish: 4th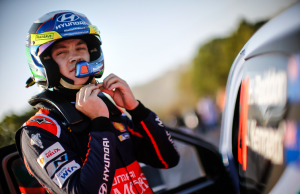 If 2015 was Hayden Padden's breakthrough year in WRC, then in 2016 the Kiwi starlet really came of age. The 2011 PWRC champion was originally picked up by the Korean outfit half way through the 2014 season and featured on six rounds of the championship, posting a best finish of sixth at Rally Australia and taking his first ever WRC stage win in Spain. Taking his first full WRC campaign in his stride, the 28-year old consistently showed up those vastly more experienced than himself in 2015. Agonisingly denied a first career victory in Italy by Sébastien Ogier, Paddon showed no signs of discouragement by posting another phenomenal showing in Poland with fourth place. Top six finishes in each of the last four rallies of the 2015 season cemented the feeling around the service park that Paddon was here to stay.
And stay he did. Rewarded with a multi-year deal by Hyundai, the 29-year-old continued to grow in stature last season. The culmination of his meteoric rise came in Argentina where the Kiwi became the first man from New Zealand to win a WRC rally. Equally outstanding, however, was Paddon's performance in Sweden a month earlier. About as far from his conform zone as humanly possible, Paddon guided his i20 WRC to a magnificent second in the snowbound forests behind Sébastien Ogier.
Having still not hit 30, Paddon is already one of the finest rally drivers his nation has ever produced. It's no surprise then that many in the know tip him as a future champion. 2017 may come a little too early for Paddon to accomplish such lofty ambitions; nevertheless, expect the young man to continue his upward curve this year.
The car: Hyundai i20 Coupe WRC
Unveiled to the world's media at Italy's Autodromo Nazionale in Monza, the three-door i20 Coupe WRC is the team's third new car since its WRC debut in 2014. Built to exploit the new, more lax design regulations, the 2017 i20 Coupe sports a much more aggressive aero package than either of its predecessors. Highly flared wheel arches, a prominent rear diffuser and – most strikingly – a far chunkier rear spoiler are the standout features. The car's overall weight has dropped, whilst Hyundai engineers have also been granted more freedom to optimise mechanical grip through enhanced traction control systems. And that's not to mention the mouth-watering hike in engine power which sees this year's machines endowed with a boosted 380bhp.