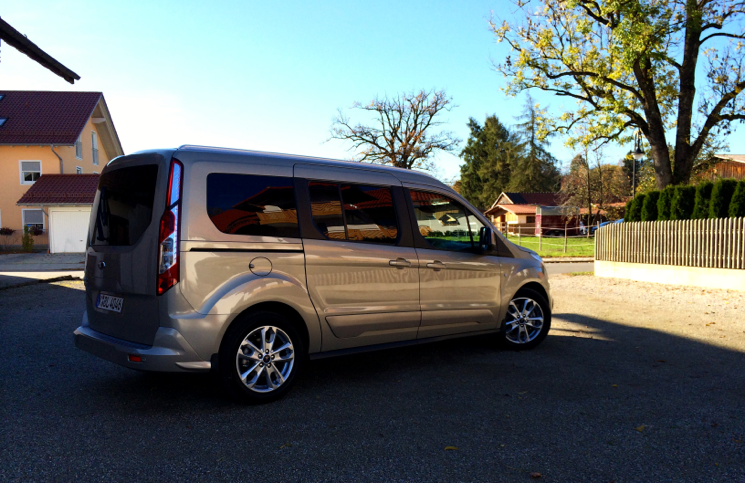 We all have those moments in life where we wish we had more space. A larger living room for that snazzy 52" LED TV you have your eye on. A bigger front door so the task of a freezer being delivered doesn't involve the product being smashed into the walls 21 times. More space in your car? Now that is one I think everyone can relate to… Be it the need for carrying more than 5 people or that troublesome day you decide to clear out the garage, having more real-estate in your car is no bad thing. Enter the Ford Grand Tourneo Connect, the Tourneo Connects big brother.
Fords introduction to the utilitarian people mover segment is logical for two reasons. Firstly their experience in vehicles that "move a lot of stuff" is vast. You only have to speak the word Transit and people know that what ever it is that needs shifting, that van has the credentials for the job. Secondly, this market is expanding dramatically and 2014 is expected to be even bigger in terms of sales. The combination of Ford's passenger and commercial traits has the potential to produce a very versatile car indeed.
The Ford Grand Tourneo is a rather modern looking 7 seater that boasts best in class interior space. Sharing its design with the smaller 5 seat Tourneo Connect, this cars swollen wheel arches and prominent body lines separates it from some of its blander competition. The front facia sports the new Ford ovular grill and some deep inset fog lights. Overall the external packaging looks premium but also functional. Our test car is the 1.6 Douratorque TDCI model in the Titanium trim level. That means it gets luxuries such as cruise control, seat back table trays, dual zone air conditioning, panorama glass roof and 16" alloy wheels.
Inside the cabin it is cathedral-like in size with a high roof and vast quantitates of empty space to put passengers or objects. The 2-3-2 layout is highly customisable allowing configurations of everything from the fully loaded 7 seats to all of the seats folding flat, including the front passengers, for things up to 3 metres in length to be swallowed. There are storage bins and cubby holes
everywhere to maximise space and further improve the cars capacity. Though there is a lot of space on offer in the Grand Tourneo, it must be said that with the most rear seats in place, boot space behind them is restricted. The seats appear hard wearing and supportive, perfect for the trials young children put a car through. Another big plus point of the Grand Tourneo is the amount of natural light that can enter the interior through a plentiful supply of large windows. Its sliding doors allow for easy access, best in class, and are prefect for getting the kids in and out even in tight car park spaces. The lip of the big boot door is also low to make life easier when loading or unloading.
On the move this 1.6 litre diesel engine pulls the big Tourneo along with ease. Plentiful torque makes light work of acceleration and with official fuel economy figures at 61MPG the benefits are clear to see. Though the petrol engines on offer are good, it is this diesel in combination with a slick 6 speed manual gearbox that is the pick go the bunch. It suits the nature of the car much better
and will merrily march up and down the motorway all day long. Ride quality with the heavier diesel engine and the longer wheel base is also better than that of the smaller Tourneo Connect. The steering is nice and direct with changes of direction being relatively swift. Though there is no getting away from this being a big vehicle, it never feels cumbersome on the road and drives much more like a car than a van. All of the drivers controls are logically placed thanks to an interior layout shared with many of Fords passenger cars. The visibility deserves a mention as all around it is brilliant and in tandem with those big wing mirrors it makes for an easy drive.
A fully loaded Grand Tourneo Connect 1.6 TDCI can be had for £20,235 offering a good driving experience and plenty of versatility. If you need the space and value some good driving dynamics then this car might be for you.