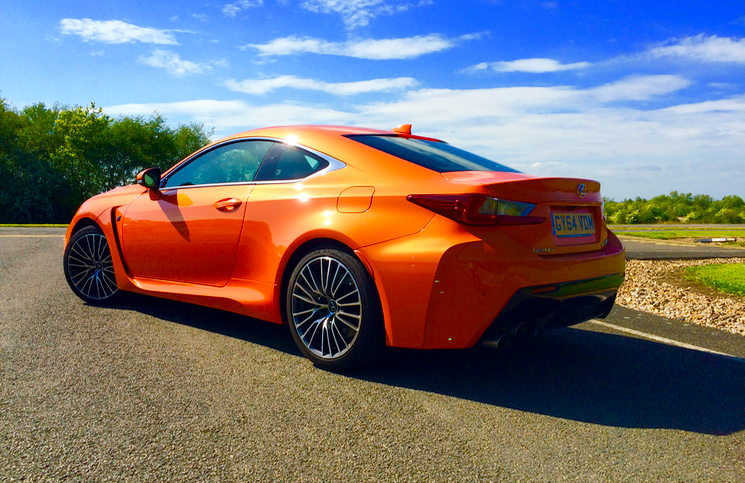 The Lexus LFA is a biblical V10 powered carbon supercar that has been proclaimed by some to be one of the best performance machines ever made. It marked a new dawn for Lexus who were only
really known for their luxury saloons. LFA boarded the brands product portfolio and now it is time for a second entry into the fast and furious market. But this time their task was even more challenging than the technical hurdles of building a 200 MPH machine… They are taking on the legendary names of AMG, RS and M Division with the 2015 Lexus RC F. A challenge which shouldn't be underestimated.
Many manufacturers have shied away from competing with the Germans in this class as, to be perfectly blunt, these top level cars are sublime and have been honed over many years. The RC F has to throw quite the punch if it stands a chance.
Visually the Lexus RC F enters the boxing ring with its teeth showing. A fabulously bold design that is muscular and pumped full of testosterone certainly sets it apart. Our test cars "Solar Flare" orange paint suits the boisterous bodywork that makes up this overtly masculine coupe profile. Its large brash details on the nose taper into sleek lines towards its tail making this silhouette seem fast even when standing still. This may well wear a Lexus badge but the brash grill, bonnet vent and stacked exhaust exits make a very different statement than its showroom siblings.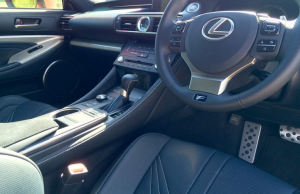 Things are more familiarly Lexus once inside the cabin of this 2+2. Beautifully sculpted heated and cooled leather seats grip you firmly with their bolsters whilst a high console divides the cockpit in two. Controls and instrumentation are presented in a highly premium fashion adding to an overall feeling of quality and good engineering.  Carbon details and aluminium accents are the icing on an impressive cake. Whilst the centre console is a bit bland for a car that looks this exciting externally, it does feature a trackpad for interaction with its infotainment system. The rear seats will fit two adults, however, this is more of a temporary seating position as is the same with many competitors. A usable 366 litre boot is smaller than that found in the BMW M4, but it does partially redeem itself with a ski hatch. Let us be perfectly honest… You didn't come here to read about ski hatches and air conditioning. You want to skip the starter and get to the main!
Hit the starter button and this cars 471BHP 5.0 litre V8 engine erupts like thunder with anyone who hadn't seen this Lexus' initial visual assault now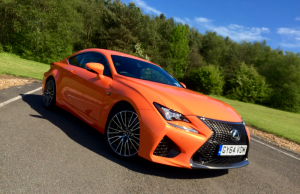 looking in its direction. With light steering and an air of tranquility settling in once underway, you notice that it still has some traditional Lexus DNA. It is easy to drive and actually rather relaxing at low speeds. The peace is only interrupted by a firm ride which could become an annoyance on our broken British roads, although it does get better at higher speeds. This cars performance it to be found higher up the rev range with things kicking of rather ferociously just below 4,000rpm. The naturally aspirated engine bellows and shouts as the car picks up pace at a slightly alarming rate. There is no denying that the 2015 Lexus RC F is a bloody quick car! It does have that lazy V8 characteristic, but take it to the rev limiter and its 0-62MPH time of just 4.5 seconds and electronically limited top speed of 168 MPH become more than just quotable figures. Accurate steering and a torque vectoring differential work together to give this car a sense of precision. That said, this is a heavy machine and as a result its doesn't feel as agile as key rivals and there is less lateral control also. Cycling through various sports modes and arriving at maximum attack Sport S+ is great fun though. Using the steering wheel mounted paddles to manually select ratios from the fast reacting 8 speed Sport Direct Shift gearbox is very enjoyable and the deep growling noises from that V8 are utterly addictive. Left to its own devices I do think there are better units out there.
Unfortunately the 2015 Lexus RC F is not the driving enthusiasts choice, but it does have plenty of other traits that make it worthy of your consideration. If you like a touch of theatre and a meaty V8 soundtrack then this car can provide that in a well built package. Take it to the race track and the M4 and C63 AMG will undoubtedly come out on top. Drive down a busy high street and it will be the Lexus people are taking pictures of and talking about on Twitter.