What is the future of the automobile? It is a question that is being asked more than ever these days as breakthroughs in alternative fuels and autonomous driving continue. The answer to that question is a remarkably simple one… Nobody knows. Will we stick with petrol and diesel, or will electric cars take off? What about hydrogen? There are so many variables it is hard to predict, but looking at the medium term at least, electric cars seem to be a good bet. As of this moment in time we are seeing more competent electric vehicles with the range and performance to replace your fossil fuel burner with reduced inconvenience. The notion of filling your car for as little as £2, reduced running costs, and doing your bit to save the polar bear is a tempting one. This is the 2016 Kia Soul EV and it could go a long way to convincing you to quit the petrol pumps.
Addressing the most striking thing about this car, the way it looks, it is indeed a "love it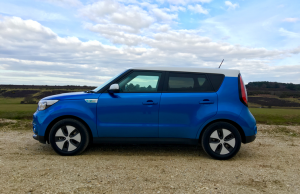 or hate it" deal. It is certainly unusual, but then so is the arguably funky Kia Soul on which this EV is based. A squared off profile plays host to intricate light clusters and a two-tone paint scheme. For aerodynamic efficiency edges have been smoothed, wider spokes close up the wheels, and the grill is totally absent. It does look futuristic and throughout my time with the 2016 Kia Soul EV I was continually answering questions about the car every time I parked. Personally I like the way this EV looks, especially in this Caribbean Blue.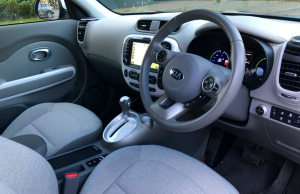 The interior of the Soul EV is quite minimalist, but thanks to the cube-like exterior shape, there is plenty of space inside. Whilst the beige dashboard of our test car contrasted with the much more interesting exterior, the console was finished in gloss white. Considering this car has the environment as a key factor in its design, the cabin doesn't go without its creature comforts. Dual zone climate control, heated seats, a large 8 inch touchscreen display, DAB radio, they all find a home here. There is a function that heats just the drivers area of the cabin if that is the only occupant, which a neat way to save some electricity. The rear bench offers plenty of head and leg room for passengers. A 281 litre boot is a good size and useful underfloor compartments are ideal for storing charging cables.
Let's get the numbers bit out of the way first because maths, whilst important, is a bit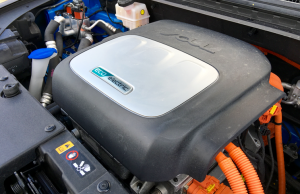 boring. Kia claim that the Soul EV has a range of "up to" 132 miles which is great. However, things such as temperature alter how much charge the battery is willing to take. In the real world and UK climate early in the year we managed to get the car to 83 miles at 100% charge. Whilst that is less than officially claimed, 83 miles is still pretty good considering day-to-day use. And that is a genuine 83 miles whereby the car does a mile for every mile displayed, unlike some rivals that are overly optimistic. Using one of the many fast charging stations that are appearing on motorways can charge from nothing to 80% in about 30 minutes. Slower stations, usually found in supermarkets, are ideal for a top-up whilst you go about your business. Plug the car into a standard electric socket at home over night and you will be good to go by the morning. When first driving the 2016 Kia Soul EV the silence is highly unusual, creepy almost, but you soon immerse yourself in the tranquility of driving an electric car. The cabin is well insulated from road and wind noise adding to the peace behind the wheel. Around town this EV is easy to drive with good all around visibility and light steering. However, it's three mode steering is not weighty enough at higher speeds. I am sure you weren't expecting the Kia Soul to be a Lotus Elise, clearly it is not, but the low centre of gravity from the batteries mean there is less body roll than you might expect. Moving the drive selector into a position marked "B" engages a high rate of regenerative braking. In this state the car can recover energy that would otherwise be lost through braking more keenly. Taking this car out of its perceived comfort zone and onto a motorway may challenge your expectations. It is composed, relatively quiet, and comfortable. Obviously at higher speeds the Soul EV will get through its battery faster, but this electric car is by no means confined to urban environments.
Many people see charging an electric car as an inconvenience, but imagine this scenario… Your commute to work and back each day totals about 30 miles (less for most people) and you need a few extra miles to pop to the shops. If you charged the car overnight for a very small sum every two days, the 2016 Kia Soul EV starts to make a lot of sense as a family car. Ok, for those longer weekend trips involving hours on the motorway you might need to plan a stop or two to do a fast charge, but do a quick cost benefit analysis and see if it can work for you.
The 2016 Kia Soul EV still qualifies for the full UK government grant and costs from £24,195.