After the catastrophic events of "Diesel Gate" and the long lasting repercussions, motorists are starting to turn away from diesel powered cars. Governments are also clamping down on the oil burners with citywide bans coming into force over the next few years. Petrol-electric hybrids aren't anything new, but their popularity in the wake of the drama is sure to spike. Keen to not let the Toyota Prius have things all its own way, the 2017 Kia Niro presents itself.
The Kia Niro combines the trending topic of SUVs and combines it
with the hybrid class. I think it is fair to say that this car is understated as there are no really bold design features, but for those who don't feel the need to show off to the neighbours, that won't be an issue. It still has Kia's signature grill and also a set of rather intricate LED lighting clusters. Our mid-specification "2" model received a pair of roof rails that contrasted the red paint work. A raised ride hight and short overhangs create those familiar SUV proportions.
Inside the interior has a family focus offering loads of space for everyone. Large windows prevent the interior from feeling dark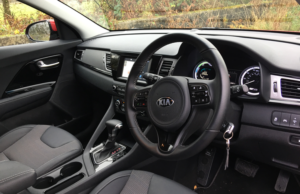 and promotes an airy ambiance. This trim level really hits the spot as not only is it sensibly priced, but you also get plenty of equipment. A 7 inch touchscreen infotainment display proved responsive and easy to use, and the dual zone air conditioning was a nice bonus. Half leather seats provides a comfortable posts to spend lengthy periods of time. Glossy plastic finishes help lift the cabin and material quality in general is good. Rear head and leg room is spacious with this cars practicality being complimented by a well proportioned 427 litre boot. Fold the rear seats down and that capacity grows to 1,425 litres.
Under the bonnet is a 1.6 litre petrol engine of which is mated to an electric motor and a bank of batteries located under the rear bench. Total output of both combustion and electricity is 139 BHP and 265Nm of torque. Whilst diesel cars might not be as favourable at the moment, they are still the kings of the open road. I clocked a substantial amount of motorway miles in this 2017 Kia Niro and whilst it will happily cruise, the M1 isn't its natural environment. At higher speeds you loose the economy and the petrol engine doesn't have the punch for strong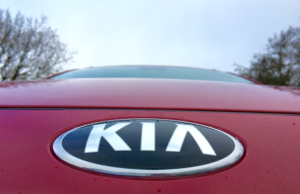 overtaking. There is some wind noise, but refinement levels are ok. It's 6 speed automatic gearbox is reasonably competent when left to its own devises. The Niro makes much more sense in an urban hubbub with stop/start traffic. It can run on electric only for up to three miles, but unlike many hybrids it doesn't have selectable modes. This is a good thing as instead of you faffing about, the car works out which method, or combination, of power is most economical. Fellow colleagues have proven that if driven like a Nun, the claimed 74 MPG is possible. Watch as your economy fills a tree representing how well you are driving. Within the infotainment system there is also a means of seeing exactly how the car is propelling itself along. Call me a geek, but I found it fascinating as it cycled though regeneration under breaking and switching between how it decided to drive the wheels. When just using electric power a sense of tranquility sets in and it is rather relaxing. However, when the petrol engine contributes its introduction is not the most subtle. Through small streets the Kia Niro feels agile, and with light control weighting, it is an easy drive. Parking is also made stress free thanks to a reversing camera.
The 2017 Kia Niro might not be the most complete car on sale today, but for those who spend much of their time in traffic or buzzing about town, it is certainly food for thought. 88g\km CO2 means that the cost of tax is one less problem in your day. Our test car at £22,795 with equipment such as Lane Keep Assist coming as standard, represents pretty good value. On top of the generous toys, there is also a 7 year manufacturer backed warranty.