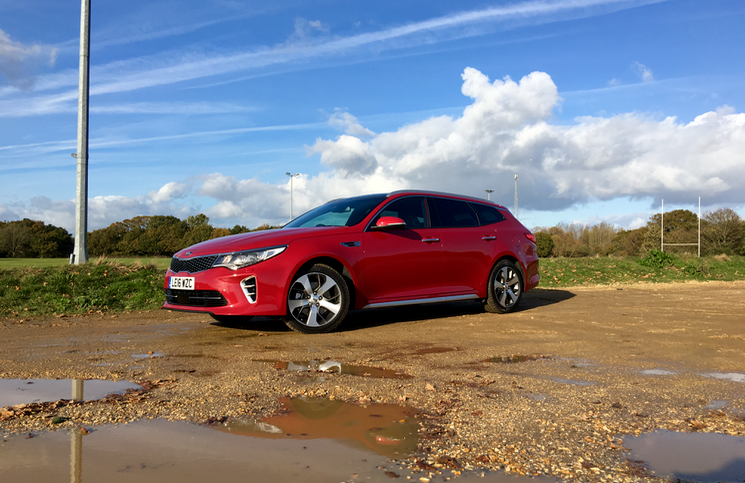 Having a strong and dependable family car is important. The job is no small endeavour and said vehicle needs to be relied upon for the school run, taking the dog to the vet, shopping, commuting, popping to the post office, and even taking shelter from our British weather. A broad range of abilities is the minimum expectation. The 2017 Kia Optima Sportswagon steps up to the mark.
Kia's design language has evolved over the years and is now at a point where every car in the range has a premium look about it.
The brand should be commended once again as this new Sportswagon is another success delivered by their design team. Estate cars aren't particularly sexy to look at, but this car is highly polished and features that now instantly recognisable "tiger nose" grill. In top specification GT-Line S trim, our test car possessed a set of smart 18 inch alloy wheels. Intricate lighting signatures and a prominent set of vertically stacked grills are highly distinguishable, particularly in a sea of conservative rivals.
The interior not only sports good quality materials, they feel durable. A sense that the car is well screwed together is not only beneficial to peace of mind, but also means it should do well
when faced with the riggers of family life. Something else that is crucial in the Sportswagon recipe is space. The cabin has bags of it seating five with good head and leg room for all. A full length glass panoramic roof fills the cabin with light and can also be opened on summer days. The centre console receives an 8 inch touchscreen display equipped with navigation, phone connectivity, and DAB radio. A wireless phone charger, found just below, is a smart feature and shows that Kia has its finger on the pulse when it comes to tech. There is also heated leather seats for four of five passengers. Boot space is 522 litres or 1,686 litres with the rear seats down. Our example also had a neat luggage seatbelt to prevent smaller items from sliding about in the vastness of space.
Powering this 2017 Kia Optima Sportswagon is the well received 1.7 litre diesel engine of which we have tested in a number of other models. Producing 139 BHP and a hefty 340Nm of torque, it has the potential to be a great motorway hauler. Once up to speed engine noise is muted and the whole experience is rather refined. The larger alloy wheels will obviously impact the ride
more than their smaller counterparts, but that said, the suspension does a respectable job of dealing with road imperfections. The control weights are light resulting in a drive that it isn't taxing to drive in the slightest. Visibility is good, but our revising camera made parking this long vehicle easier. Whilst the 2017 Kia Optima Sportswagon acquits itself well in an urban environment, it excels out on faster stretches. The torque from the diesel engine makes accelerating effortless and Kia's own excellent 7 speed automatic gearbox is quick to respond. A lack of steering feel means that it isn't the most fun on a twisting B-road, but there is loads of grip on offer. Taking this car to its natural habitat, the motorway, highlights just how brilliant the SW is at clocking up the miles. Set the cruise control and let this car take the strain. Sink a little deeper into your heated seat and bathe in the tranquility. I genuinely feel that you could get out of this car after a 4 hour drive and feel no worse for wear. It shouldn't be a burden on your wallet either as 61 MPG combined is claimed.
Kia are really causing trouble for many manufacturers that people often default to. Not only do cars like this 2017 Kia Optima Sportswagon offer a competent package, but they are also good value for money. You can have one of these from £22,995 and even the entry car is well equipped. On top of that, factor in the brands unrivalled 7 year manufacturer warranty. There is a reason why Kia is growing so positively… Much of it is to do with having products as strong as this Sportswagon.