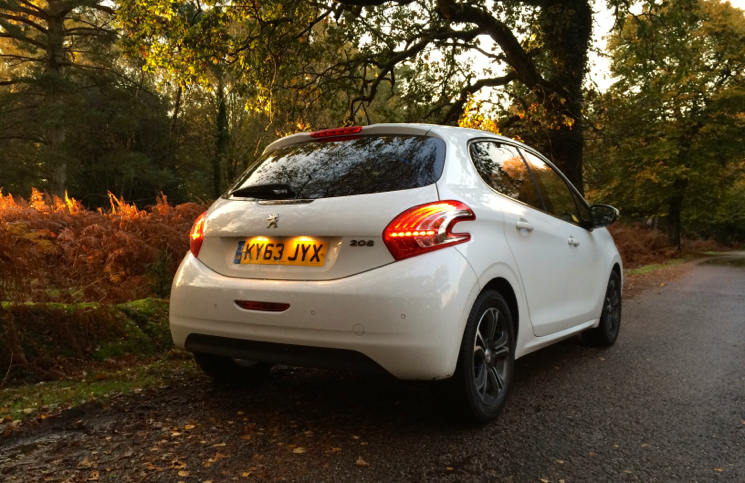 Stereotypically the French are very good at three things… Leave a Frenchman in a Kitchen for any length of time and he will serve you a delicious lunch. Give a Frenchman some paint and he shall create a fine work of art. Tell a Frenchman to build a
little hatchback and you won't be disappointed. Peugeot became famed for their well priced and very honest little cars, but the world has changed over the past decade and I think it is fair to say that the French brand have found it hard going to compete with their biggest rivals. That said, this new Peugeot 208 shows plenty of promise.
It is a good looking little car isn't it? I think proportionally it is spot on with its wheels pushed deep into each corner of the cars compact yet robust outline. Looking stout and rather handsome in our test cars Bianca White paint, this 208 paints a picture of exactly what a modern hatchback should look like. A premium aesthetic appearance is created by LED lights, aluminium badging and those very smart 16" alloy wheels. We had nothing but compliments about the cars looks the whole time of testing it. With the neighbours cooing over its shapely nature and accomplished aesthetic, it scores highly in the visuals department.
Getting into this 5 door model reveals a cabin of excellent design and quality. Everything tactile feels well made and all the details, be it the blue interior lighting or the sculpted surfaces, make the
interior a nice place to be. The central touchscreen on this Allure model gives you access to a DAB radio, Bluetooth as well as a user friendly interface for your phones contacts. Seating in both the front and rear is comfortable and supportive with the front seats in particular offering high levels of bolstering. Rear passengers are also treated to ample leg and head room meaning adults needn't suffer with cramp, unlike some rivals, if they fail to call "shotgun" fast enough. Despite the amount of space for passengers, boots pace is not impacted and is plentiful for everything from the school run to the weekly family shop. The panoramic glass roof may well be a £400 optional extra, but it does let plenty of natural light into the cabin and doubles as a nice exterior design feature.
Our specific car is the 1.2 litre three cylinder petrol engine model that aims to offer low running costs. The engine runs smooth at both high and low speeds keeping noise to a minimum when maintaining a steady velocity. That said, give the throttle a good hard prod and a loud typically three cylinder thrum can be heard. Now personally I don't mind the noise of these engines hard at
work but others do and due to this unit only having 82BHP it does need to be worked hard to cover ground quickly. Whilst a 0-62MPH time of 12.2 seconds is uninspiring, what is commendable is this cars ability to settle down to a motorway cruise. At 70MPH the cabin is relatively quiet and the tranquility creates a pleasant environment for those often tediously long motorway journeys. Simply setting the cruise control and tuning into Capital on the radio, or connecting a Bluetooth device such as an iPod, makes for an easy trip. Around town the 208 is geared well even if changes in this 5 speed manual were a bit lacklustre. The turning circle of the car teamed with nimble handling make urban environments easy to conquer. More exuberant driving reveals a good chassis and a quick steering rack thats effect is enhanced by a small steering wheel.. In fact revving the nuts off of a little engine like this and the 208s willingness to be thrown into corners makes it rather enjoyable on country roads, the only downside is the suspensions ability to control body roll. In fast bends its lean is noticeable, but then if you were to continue to drive the car like a hooligan I would suggest that the GTi model might be better suited to you.
The Peugeot 208 marks a return to form from the French brand with interior quality and overall design making it an alluring proposition over its competitors. This 208 with its series of toys including parking assist, a feature that enables the car to do the steering whilst parking which we strongly recommend if you live in a busy city, costs £14,345. At that price it does put itself in the direct line of fire from equally well equipped competition, though less stylish competition it has to be said. Consumers now demand higher quality products but, like everything, they want it at a lower price. This little car provides a fine platform for the urban assault whilst returning good fuel economy.