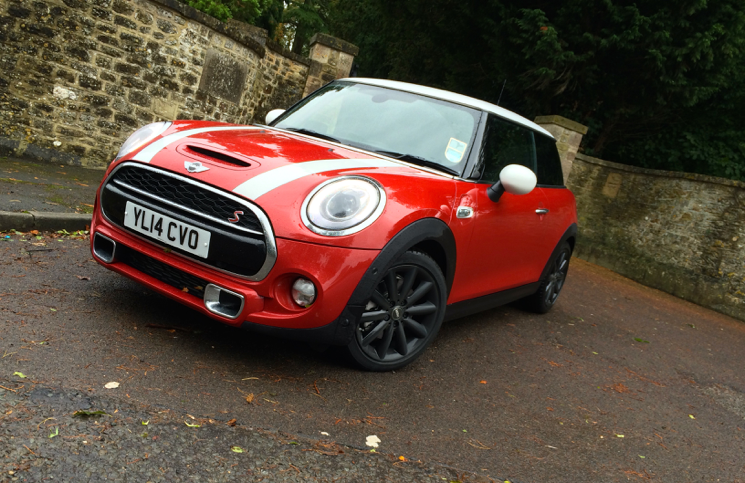 Ok, so you have managed to persuade your better half that owning a car with a bit of performance punch is a good thing. Well done, first hurdle overcome… To choose a hot hatchback would be another ace to pull from your sleeve as they are a
riot to drive, but retain rear seats and a decent sized boot. Things are looking good right up until the fuel bill is mentioned. Whilst most of these ASBO inducing pocket monsters are capable of reasonable economy, you both know damn well that it is unlikely to be driven like the Popemobile. And it was all going so well! However, Mini might just have something for you. Whilst the Cooper S is excellent fun, this 2014 Mini Cooper SD claims to offer the same smiles, both whilst driving and at the fuel pump.
The all-new Mini still retains its "cheeky chappy" appearance with large rounded headlights and prominent front grill. Proportionally it is larger than the model that preceded it, but to those who moan "its  not very mini for a Mini" need to check their calendars and wake up to 2014. With every generation customers demand more practicality and safety. So the only answer is to increase its size, that said the modern Mini is still smaller than its competitors. Bonnet scoop and contrasting white stripes give this red 2014 Mini Cooper SD a suitably sporting character. 17 inch black alloy wheels allude to a darker side of this otherwise charming little car.
Enter the cabin of this car and its newfound grownup nature of this car is immediately apparent. The interior has matured promoting a premium design. Glossy black surfaces integrate with neat details such as illuminated chrome door handles and switches. Gone is the central speedometer, moved to a more conventional location, and in its place is a large infotainment screen controlled via an ergonomic dial and buttons. A ring of light surrounds it changing colour when the car is cycled through various driving modes. Chunky John Cooper Works steering wheel with red contrasting stitches is a sporty addition to the passenger space. The leather seats are supportive with plenty of bolstering to hold you in place when driving in a more spirited manor. An option that this car had, of which we would highly recommend, is the colour heads up display. Not only does the HUD look great, but it minimises the need for your eyes to leave the road displaying speed as well as navigational directions. In the rear there is more space than ever, but not quite enough to see off competitors, the same goes for its boot.
The 2014 Mini Cooper SD we snagged the keys to had a 2.0 litre 4 cylinder turbocharged engine under the bonnet producing 168BHP and 266lb ft of torque. That last figure in particular is
key as all of that torque is available from just 1,500rpm. So how fun can a diesel car be? Well if it is the Cooper SD, then the answer is very. Whilst this car can do all of the sensible things like driving around town very well, this car has good visibility and doesn't ride as harshly as its predecessor, it is you leave the urban sprawl behind and go on to conquer on British country roads you recognise the genius of this car. The steering is well weighted and engine response is good, but select sport more and everything becomes sharper. Turn into a corner using the meaty steering wheel and there is loads of grip, the car darts towards the apex with precision. Minimal body roll further adds to the Mini's good manners, but the best part of the SD is revealed upon corner exit. Thanks to all of that low end torque you can fire the car out of the tightest bends leaving a cheesy grin upon your face. There is a touch more understeer in this car over the Cooper S due to the increased weight of the diesel, something to keep in mind when driving hard in the wet. Obviously the engine noise is not as fruity as the petrol Cooper S, however, its diesel growl is not unpleasant. A 0-62MPH time of 7.2 seconds, when optioned with the 6 speed automatic transmission like this car was, is pretty brisk especially when you consider it will only emit 107g/km of CO2 and return 69.9MPG. Said gearbox is quick and responsive with manual gear selection being made available using the steering wheel mounted paddles. Left in automatic and cruising along at motorway speeds, the SD is comfortable and refined with some wind noise from the A-pillars being my only real criticism.
Not only does the new 2014 Mini Cooper SD look good, but it also drives just as well delivering all the fun of the petrol car. This is arguably the best all-round Mini in the range and strong sales are sure to follow. You can have an SD in Blazing Red for £20,225 but this specific car with its optional equipment including; rain sensing wipers, heated seats, cruise control, HUD, John Cooper Works trinkets and automatic gearbox came to £26,685. The SD is still quite the Mini adventure, just without the higher fuel bill.