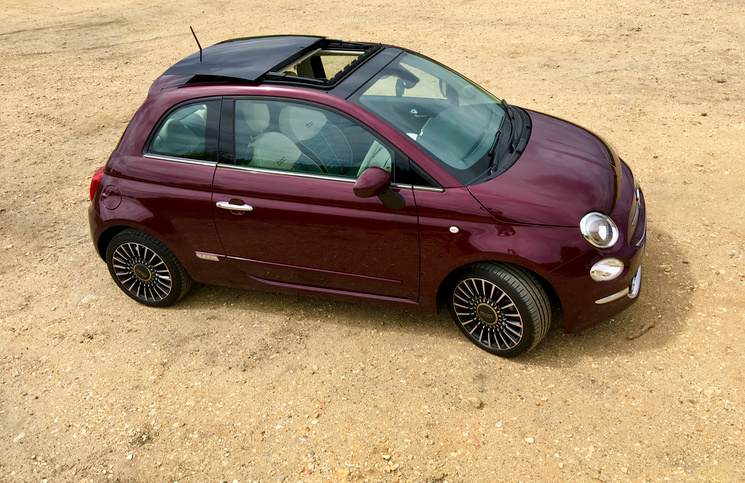 If you want a working definition of something that is popular, try counting how many Fiat
500 cars you see in a day. Everyone knows that these micro machines are doing pretty well for themselves, but I didn't notice just how well until I spent some time in one. I had joined a pretty big club and was curious to find out exactly what it is that makes people go crazy for Fiat's smallest offering. I grabbed the keys to the new 2016 Fiat 500 TwinAir and hit the road.
The 500 is avery unique looking machine. Those characterful round headlights and small proportions gives the car character, maybe something that is missing from a lot of modern cars? Our top specification model finished in "Avantgarde Bordeaux" looked rather upmarket. Chrome detailing, optional 16 inch alloy wheels, and a glass panoramic roof, all combined to form a sophisticated little package. One of the bigger styling changes for this 2016 Fiat 500 comes in the form of interesting rear light clusters. This unusual hoop shaped signature is something else that now makes this unmistakably a Fiat 500.
The interior is a celebration of Italian design with a style reminiscent of a modern coffee bar. This cream cabin was nicely broken up by a body coloured dashboard which injected colour and also served to combine both the inside and out. A 500 logo proudly sits on the dash along with glossy buttons. A 5 inch touchscreen display provides infotainment, however, this screen size is small by current standards. Something we would recommend is the optional 7 inch TFT display for the instrument binnacle. This screen can give you a heads up in terms of navigation and proves to be more useful than glancing over at the smaller display. A white steering wheel matches the cream half leather seats, again wearing 500 logos. A glass panoramic sunroof is great for letting more light into the cabin and is especially nice on warm summer days as it retracts. The two rear seats lack leg room and so they are reserved for children or very short trips for adults. Its compact size also means that it has a 185 litre boot, but this sort of size is par for the course when it comes to superminis. Fold the back seats flat and a usable 550 litres becomes available.
A key thing about our specific 2016 Fiat 500 is that it is the TwinAir model. This means power is sourced from a 0.9 litre engine with jus two cylinders. Can such a small engine cope with day-to-day living? The answer is yes as it still produces a healthy 104bhp. Around town the characterful thrum of this engine might not boost refinement, but it certainly does the job. A well rationed 6 speed manual transmission is an ally in the urban sprawl and the added torque from the turbo is most welcome. However, to get the most
out of the car you must explore the higher end of the rev range. Darting through traffic and parking with ease both come thanks to this cars compact wheel base. All of those tiny little spaces that previously were out of bounds are now yours for the taking! Out on faster roads the 2016 Fiat 500 feels nimble. Push its "Sport" button and a meaningful amount of weight is applied to the steering. It is actually good fun revving the nuts off of this tiny little engine and chucking the car into a complex series of bends. Obviously it is no prancing horse, and so it is all about keeping momentum, but it certainly raises a smile when driven spiritedly. Low in the rev range there isn't a lot going on, however, keep the turbo in play and things become more interesting. On the motorway this particular 500 is a bit more out of its depth. Whilst it will happily sit at the speed limit for a few hours, it doesn't have much punch left for overtaking. There is also quite a lot of wind noise. If you want to spend more time on the motorway we would suggest you take a look at the diesel offering, or the larger Fiat 500X. At the end of the day this is a city car, and hitting the M25 for prolonged periods was maybe a bit out of its comfort zone. Fiat claims 67.3 MPG combined and 99g/km CO2.
The 2016 Fiat 500 TwinAir is a commendable city car, but competition is tough. The VW Up!, Skoda Citygo, Citroen C1, and Hyundai i10 all battle for the same space. Our top specification car with all of its options came to £17,180 which is a big price for a small car. However, you can have a new 500 from £11,050.
Some rivals offer more space, others are cheaper… But they don't necessarily have their finger on the fashion pulse like the 500 does.