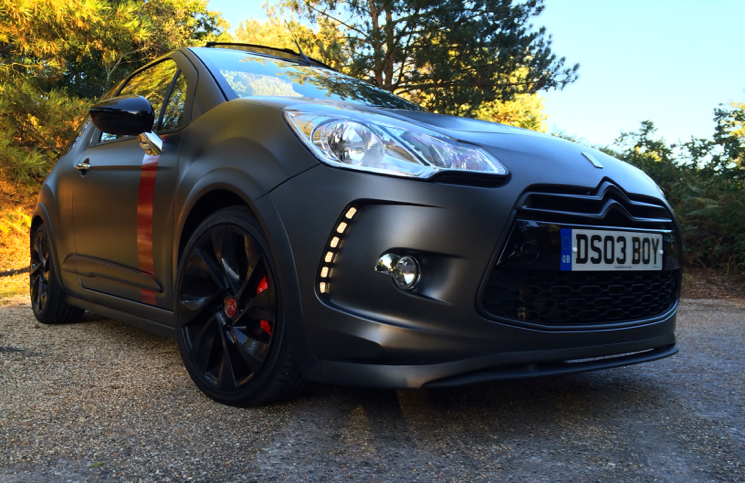 Hot hatchbacks have to be one of my favourite breeds of car. Not only do they score highly on the "bangs for your bucks" scale, but they also make a very big "power to the people" statement. You do not need vast amounts of cash to go quickly, you do not need to sacrifice the rear seats for a sporty experience. They are cheeky, anti-establishment and always ready to put their more affluent rivals to shame. The Citroen DS3 Racing Cabrio enters the ring bringing with it some serious exclusivity.
Being 1 of only 100 in the world, and 1 of 10 in the UK, the Citroen DS3 Racing Cabrio is rarer than most Ferrari. In fact, you have a better chance of wining the lottery than having one of these park outside your house. Looking like Satan's lapdog, this little car has some serious attitude. Matte paint, red door stripe and real carbon fibre makes this the most visually evil machine in its class. Sitting lower and wider than the standard DS3, the Racing Cabrio sheds the innocents of the
car on which it is based and replaces it with a carbon splitter and burly exhausts. Clearly visible through the spokes of its 18-inch alloy wheels are large red contrasting brake callipers. This car is here to scare pensioners and burn rubber, and its all out of pensioners…
The hormonal teenage rebellion continues on the inside with two large man-eating racing seats dominating the cabin. Hyperbole aside, they really are fantastic seats with huge amounts of bolstering to hold you in place. Carbon fibre wraps itself around the steering wheel and console further amplifying the sporty feel. The red stripe addition also makes itself known on the dashboard. This DS3 Racing Cabrio seats five but with the two larger seats in the front, rear leg room is compromised slightly. Headroom is good and can be extended infinitely by opening the
cars full-length roof. Its boot is of a good size but, like the standard Cabrio, it is flawed by a small pillbox opening. Overall the interior has a quality feel to it and a looks special enough to distinguish it from lesser models.
Fact: You can get 42MPG out of this car if you drive it like your mother would. Another fact: You will not drive this car like your mother. Turn the key and the 1.6 litre turbocharged engine awakens with crescendo settling into a deep bass idle. Blip the throttle and enjoy the rally car-like pops that emanate from the rear end. Setting off it is immediately noticeable that this car is much more taught than the standard DS3. Stiffer suspension means there is less body roll but at lower speeds compounding bumps in the road do shudder through the cabin. That said, this car was never designed to be a Rolls-Royce, it was designed to put a menacing grin on your face. Foot to the floor and a 0-62MPH time of 6.5 seconds will have you pulled back into your seat. With the roof open you can hear the induction and turbo noises fizzing under the bonnet whilst the exhaust crackers upon lifting off of the throttle. If you didn't have an antisocial behaviour order before owning this car, you soon will as its brilliantly churlish nature will have you purposely dropping a gear at any opportunity. At about 4,000RPM the turbo is really on song and the Citroen DS3 Racing Cabrio pulls strongly. However, there are consequences to sending 207HP to the front wheels… Torque steer. From a standing start it is most obvious with the wheel twisting against you. It is rather unruly by modern standards, but in its own mad
little way captures the spirit of hot hatchback of old. You must insure that the car is of relatively straight trajectory before putting your foot down upon corner exit as it will understeer whilst attempting to put those horses to the ground. The steering could also use a bit more feel. Off throttle the car has a good level of grip, but as mentioned, the amount of power and lack of a limited-slip-differential means you have to keep your wits about you when driving hard. Thankfully its 4 piston racing callipers at the front do a fine job of slowing the car down. Truth be told, the braking package on offer is one of the most impressive elements of this DS3R. Nice pedal feel allows them to be modulated more accurately and their ability to arrest the progress of this 145MPH car is confidence inspiring. With the windows up and the roof closed the DS3 Racing Cabrio is refined and easy to live with on a daily basis.
The Citroen DS3 Racing Cabrio is, as a friend elegantly summed it up, "bad ass." It delivers the hot hatchback recipe beautifully, but also requires a level of respect or else it will simply spit you out wide for being overly abusive with its power. Being 1 of just 100 it obviously commands a premium price. £29,310 to be exact which is a lot of money for this sort of car considering the almost as quick Peugeot 208 GTI starts at £18,900. However, the Racing does feel much more special and will no doubt hold its value due to its exclusivity.